LATEST NEWS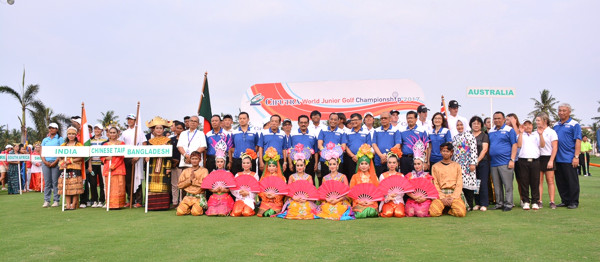 The Committee and captains of the participants after press conference in Damai Indah Golf - PIK Course
Jakarta, May 5, 2017
Ciputra World Junior Golf Championship is again held in 2017. This international tournament will be held at Damai Indah Golf - PIK Course, Jakarta, June 6-9. A total of 150 golfers from 18 countries will compete their strategies for the title.
Indonesia will send 36 best golfers, including two PON champions from East Java, Jonathan Wiyono ranked 368 WAGR and Inez Beatrice Wanamarta ranking 248 WAGR, who became the best Indonesian female amateur golfer in the WAGR rankings. Thailand has always been the toughest competitor also sent 34 golfers. In addition, other participating countries are Australia, Bangladesh, China, Chinese Taipei, India, Ireland, Japan, Republic of Korea, Malaysia, New Zealand, Philippines, Singapore, South Africa, Sweden, Thailand, UK and Vietnam.
"In addition to enliven the world of golf in Indonesia, this tournament has a major mission, which is to find best Indonesian golfers who are ready to compete with other junior golfers in the international competition and add achievement. I hope young people can understand that golf is not just a sport, but it can also be a promising profession," said Mr. Sutopo, head of the Committee of Ciputra World Junior Golf Championship, which already held for 24 years.
Indonesia has three times won the World Junior Golf Championship, achieved by Joshua Andrew Wirawan in 2012, Jordan Surya Irawan in 2011 and Jovie Ocvandio Panggabean in 2010.
The tournament will play 4 categories for each Boys and Girls, which is A, B, C, D. Some countries, such as Thailand, Philippines, Malaysia and Indonesia use it as a testing ground for SEA Games 2017 and Asian Games 2018.
With the presence of international golfers, Ciputra World Junior Golf Championship is also a promotional event of golf tourism Indonesia. In the opening and closing ceremonies of the tournament always display typical Indonesian arts, such as traditional dances.
Damai Indah Golf - PIK Course has done a mature preparation as the host. Being one of Indonesia's best course, located along the coast of the Java Sea, and is one of the world's great golf course designed by Robert Trent Jones Jr.
The course is very challenging for golfers, including for world-class golfers. PIK Course hosts many prestigious tournaments, including Indonesia Open 1994, 1995, 2007, 2010, 2011, 2013, and 2014.
Hosting international tournaments has a positive impact on PIK Course, where the club continues to maintain service standards and course quality. The PIK Course was crowned "The Most Favorite Golf Course in Indonesia by IAGTO in 2010-2011. It also received the International Association of Golf Tour Operator award - Excellence Award 2015.
Damai Indah Golf has two golf courses. The other course is BSD Course.
For more information contact please Varina Atkinson (0812.9544.2359) / Synthia (0812.8338.6052)