LATEST NEWS

Indonesia Competing Closely with Philippines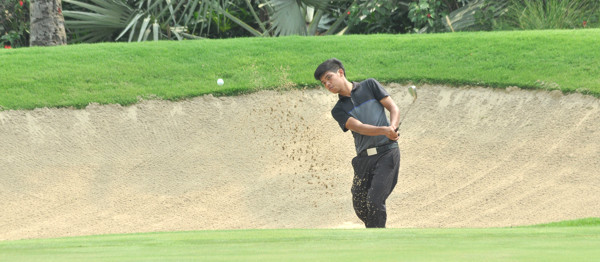 Dominikus Glenn Yuwono
Jakarta, June 6, 2017 -- Philippine golfer Carl Jano B. Corpus leads the A Division on the first day of the Ciputra World Junior Golf Championship 2017 at Damai Indah Golf - PIK Course, Jakarta, Tuesday (6/6).
Carl leads with 73 strokes or 1 over. He is overshadowed by five players who are left behind two strokes only, including two Indonesian golfers, Jonathan Wijono and Dominikus Glenn Yuwono. They both ties with Ryan Monsalve (Philippines), Wanipun Meesom-Us (Thailand), and Adam Arif Bin Madzri (Malaysia).
The hot weather doesn?t is reduce the spirit of the players to conquer the course designed by Robert Trend Jones Jr..
The course conditions this year is more challenging because the rough height is raised to 50 millimeters so that the level of difficulty is higher. "As we all know that the green in PIK is not easy to conquer", said Rizal Arya, the Tournament Director.
The Philippines also leads in the B Division of the Son. Jolo Timothy L. Magcalayo scored 74 strokes or 2 over. While Kentaro Nanayama of Indonesia take the second position by a single stroke only, with a score of 75 or 3 over.
In the other two divisions, the C and D divisions of Boys and Girls are dominated by golfers from Thailand. Pongsapak Laopakdee, Tunyapat Sukkoed, and Jakaphat Nilpradab occupy the top three position of Boys C division.
In the Grils? division, Phannarai Meesom-Us leads with 73 strokes or 1 over. Followed by another Thailand golfer, Ngamkham who scored 7 more more, ties with Anne Leqi Fernandez from Singapore. Division C is for 11-12 year age group.
Another Thailand golfer, Thanawin Lee, leads the Boys? Division (age group 10 and under). Although still young, he was able to score 71 strokes or 1 under. Leading way ahead his opponents. The second position is taken by Jayden Ng Wei Jiat from Malaysia with 77 strokes or 6 over, ties with two Thailand golfers, Achira Chumchaivate and Poomrapee Kaewpiboon.
The top three divisions of the Girls? division are also led by Thailand, who are Titikarn Thapasit, Chutimon Rujiranan, and Thanana Kotchasanmanee.
Indonesia has won three World Junior Golf Championship titles, which represented by Joshua Andrew Wirawan in 2012, Jordan Surya Irawan in 2011 and Jovie Ocvandio Panggabean in 2010. The hoping is that this year will also get the same achievement.
Tomorrow, Wednesday June 7, 2017, the tournament will continue with the Class A, B, C & D and C & D class divisions entering the second day while the new A & B division will start the first day.