LATEST NEWS
The Girls Division Competition is Getting Tougher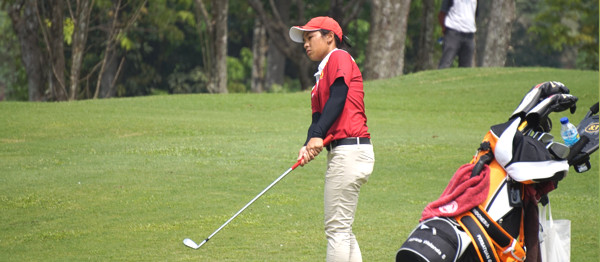 Patricia Sinolungan
Jakarta, June 8, 2017 - Competition on Girls-A Division in Ciputra World Junior Golf Championship 2017 gets tougher. Indonesian golfer, Patricia Sinolungan, played better than her friend, Ribka Vania, by reaching the top of the leaderboard after scoring 71 strokes or 1 under par on a second day match at Damai Indah Golf - PIK Course on Thursday (8/6). She leads with a total of 143 strokes or 1 under par.
"When I play I do not think about scores. I try to keep focused on the swing, "Patricia said after the game.
Patricia was overshadowed by the Thai golfer Taglao Jeeravivitaporn, who finished second with 3 strokes. Another Thai golfer, Kan Bunnabodee, came in third with 1 stroke behind.
Inez Beatrice Wanamarta ranks fourth after collecting 76 strokes or 4 above par. Rebekah, who on the first day took the lead with 70 strokes displaced to fifth position after scoring 80 strokes or 8 above par.
This year there are not many golfers who can play under in this prestigious junior tournament. Beside Patricia, Thailand golfer from the Girls B Division, Unayamanee Wongaroon, scored 69 strokes or 3 under par. She currently leads the girls? overall overall standings (divisions A and B) for a total of 142 strokes or two under par.
The result also led her to the top of the leaderboard in Girls-B Division. If she can maintain her performance in last day's matches, Unayamanee may has a chance to win.
Miku Abe (Japan) who ranks second left behind by five strokes. Followed by Pimkwan Chookaew from Thailand who recorded 152 strokes or 8 above par.
Three golfers from Boya ? A Division, Carl Jano B. Corpus (Philippines), Taiga Semikawa (Japan), and Jonathan Wijono (Indonesia) played par on the third day. These results still make Carl stay in the top of the leaderboard with the total of 218 strokes or 2 above par. Taiga followed with 222 strokes or 6 above par. Jonathan collects 224 strokes or 8 above par.
Another Philiphine golfer, Jolo Timothy L. Maggalayo, also stay in top o f the Boys ? B Division leadeboard after scoring 77 strokes or 5 above par. Competition is very tight in the top three positions. Each one is just one stroke away. Zubair Bin Mohd Firdaus from Australia followed in second place, followed by Denwit Boriboonsub from Thailand.

Hunting for the Governor's Cup
In addition to individual numbers, in this tournament is also contested Jakarta Governor's Cup for the number of Boys and Girls team. The Philippine teams represented by Carl Jano and Jolo Timothy lead the Boys? team with 446 strokes. The second position is taken by the Japanese team, Taiga and Genki Hosen with 459 strokes. Two Indonesian teams are ranked next. Indonesia 1, Jonathan Wijono and Jose Emmanuel Suryadinata and Indonesia 2, Dominikus Glenn Yuwono and Kentaro Nanayama each collected 461 strokes.
The Girls? team is currently led by Thailand 2, represented by Kan Bunnabodee and Unyamanee Wongaroon with 288 strokes, followed by the Japanese team, Sara Ota and Miku Abe with 297 strokes. The third position taken by Thailand 1, Taglao Jeeravivitaporn and Thame Mcfadden with 307 strokes.
The final will be held on Friday (9/6). As in the opening ceremony, the trophy handover will be enlivened with typical Indonesian dances.
For more information contact Varina Atkinson (0812.9544.2359) / Synthia (0812.8338.6052)