LATEST NEWS
Carl Jano and Taglao Champion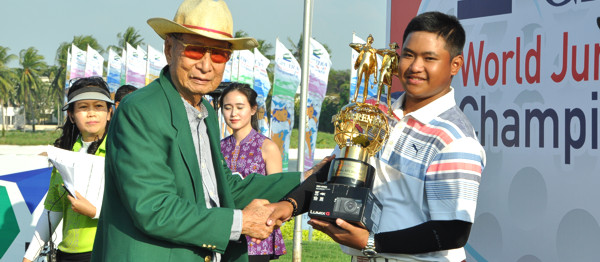 Ciputra and Carl Jano B Corpus
Jakarta, June 9, 2017 - Carl Jano B. Corpus from Philippines won the Boys individual overalls (divisions A and B) in the final of the Ciputra World Junior Golf Championship 2017 at Damai Indah Golf - PIK Course, Jakarta, Friday (9/6).
From day one, Carl always leads in division A. Carl leads with 292 strokes or 4 above par in four days of matches. He scored 74 strokes or 2 above par in the final day game.
The Girls? individual overall champions (divisions A and B) were taken by Thailand golfer Taglao Jeeravivitaporn and won the Ciputra Cup. She scored a total of 214 strokes or 2 under par in three days of matches. On the last day she scored 69 strokes or 3 under par.
Carl and Taglao both admit that the PIK Course is not an easy course to conquer.
"The key to my success today is being able to do a good putting. Green is difficult and the wind is quite strong. Thank God I can become a champion. This is a big win for me. Next year I want to play again in this tournament to defend the title, "said Carl Jano. This is the second time he joined the World Golf Junior Championship in Indonesia. Three years ago, at Damai Indah Golf - BSD Course he became third prize in Boys ? C Division.
The difficulty of the course is the evident that not many players can play under. Sara Ota, a Japanese player who entered the Girls A Division, scored 66 strokes or 6 under par on the last day. Sara Ota becomes champion in the Girls A Division by collecting 216 strokes or par. The position for 1st runner up is taken by Kan Bunnabodee from Thailand with the difference of one stroke.
Indonesian golfer Patricia Sinolungan, who took the lead on the second day become 2nd runner up with 220 strokes or 4 above par.
"My game today is actually quite good, but the accident in hole 15 makes it double, then hit boogey. My putting not so good, so many miss, "explained Patricia.
The Indonesian golfer, Jonathan Wiyono, became the 1st runner up of the Boys - A Division. This 2016 PON champion collects 298 strokes or 10 above par. He admitted that he less satisfied with his performance. "The green is slippery. It was not so slippery during practice, but different during tournament. Green is very tricky. My performance is not good, "said the golfer from Surabaya.
Jonathan lost 5 strokes from the Boys - A division champion, Taiga Semikawa (Japan)
Champion Team
Philippine I team represented by Carl Jano B. Corpus and Jolo Timothy L. Magcalayo won Boys? team and won the Jakarta Governor's Cup. Both players collected 599 strokes. The second position is taken by Indonesian team represented by Jonathan Wiyono and Jose Emmanuel Suryadinata with 614 strokes. Followed by Indonesia III team, Dominikus Glenn Yuwono and Kentaro Nanayama with 615 strokes.
The Girls? team was won by Thailand II, represented by Kan Bunnabodee and Unyamanee Wongaroon with 434 strokes. The second and third positions are taken by the Japanese and Thailand teams I. The Japanese team by Sara Ota and Miku Abe collect 439 strokes. Taglao Jeeravivitaporn and Thame Mcfadden who strengthened Thailand I rounded up 455 strokes.
In this prestigious tournament, there are two players who managed to score a hole in one, Fabian Lefan Fernandez from Singapore and Chung Chieh Tsai from Taipei.
Since 24 years ago, Damai Indah Golf has always held international golf tournaments. Since 2007, the Ciputra World Junior Golf Championship has been recognized as the world championship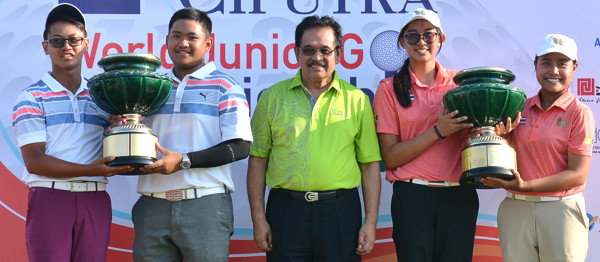 Team Champion