LATEST NEWS

Ribka Vania Leads The Girls Division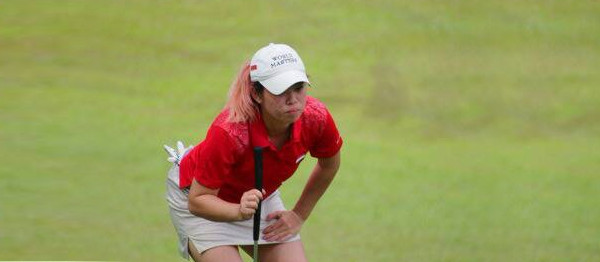 Dominikus Glenn Yuwono
Indonesian golfer Ribka Vania scored the best results in the first day of the Girls A Division of The Ciputra World Junior Golf Championship 2017 held at Damai Indah Golf - PIK Course on Wednesday (7/6). Together with the Thailand golfer Kan Bunnabodee, they both ties at the top of the leaderboard by scoring 70 strokes or 2 under par.
The two other Indonesian golfers, Inez Beatrice Wanamarta and Patricia Sinolungan, overshadow the next position by playing par. Both players are ties with two other players, Natasha Andrea Oon (Malaysia) and Taglao Jeeravivitaporn (Thailand).
Secretary General of PB PGI Christine Wiradinata hopes that Indonesian golfers can show their best performance. She supports Indonesian golfers to increase the skills of the game and enrich their experience in this tournament. "World-class tournaments like this can train players? mentally and provide experience to our players to be more competitive with players from other countries. They can increase skills so that in the future can play more confidence, "said Christine.
Japanese golfer Miku Abe plays par and leads in the Girls? B Division. Followed by Unyamanee Wongaroon (Thailand) with 73 strokes or 1 above par, Margaret Leyi Fernandez (Singapore) with 74 strokes or 4 above par.
In the Boys? A Division that entered the second day of the tournament, Carl Jano B. Corpus survives at the top of the leaderboard. He earned 146 strokes or two above par after scoring 73 strokes or 1 above par.
Carl leads by a margin of four strokes from Taiga Semikawa (Japan) who is ranked second in the leaderboard. Taiga took the second place by scoring 69 strokes or 3 under par, much better than his game on day one, 81 strokes or 9 above par.
Indonesian golfer Dominic Glenn Yuwono finished third. He collected 151 strokes or 7 above par after scoring 76 strokes. Competing tightly with Hamish Way (Australia) who also collected 151 strokes.
Zubair Bin Mohd Firdaus played par and placed him on the top of the Boys? B Division. On the first day he scored 76 strokes and 72 strokes on the second day, shifting down Jolo Timothy L. Magcalayo (Philippines) to second place.
Boys C Division is controlled by Thailand. Pongsapak Laopakdee leads with 71 strokes or 1 under par, followed by Sukhoed Tunyapat with par results, and Jakaphat Nilpradab with 76 strokes or 4 above par.
So is the Boys D division. Three Thailand golfers took the top three positions. Thanawin Lee with 73 strokes or 1 on par, ties with Achira Chumchaivate. Followed by Poomrapee Kaewpiboon with 2 strokes difference.
Valencia Andov from Indonesia is in the third position of Girls C Division. He booked 76 strokes or 4 above par. This result is much better than the first day, where he scored 82 strokes or 10 above par. Two Thailand players led, namely Phannarai Meesom-Us with a par result, followed by Suttinee Ngamkham with a 1 on par.
The position of Girls D Division still the same like the first day. The three top position taken by three Thailand golfers, Chutimon Rujiranan, Titikarn Thapasit, and Thanana Kotchasanmanee.